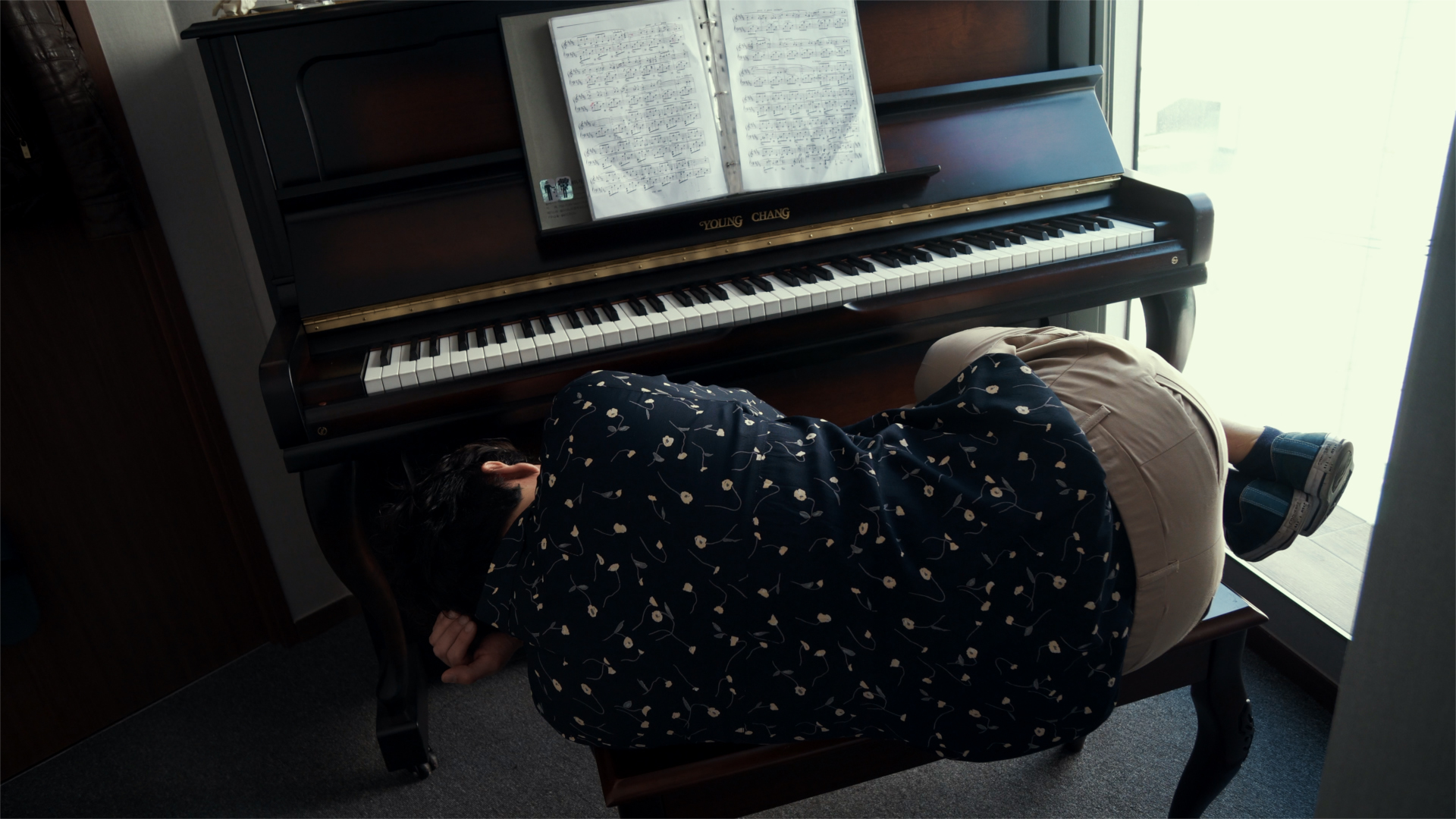 Piano Prism / Documentary / 90 min / 2021 / Korea
Trailer
/
SYNOPSIS
나는 은퇴한 화가이고 이 영화를 만든 감독이며, 요즘에는 피아니스트를 꿈꾸고 있다. 성인이 되어 시작한 서투른 나의 피아노, 레슨 받으러 간 학원에서 선생님은 자주 말을 못 잇고 한숨을 쉰다. 그러나 피아노를 중심으로 삶은 흘러간다. 도시 밤거리를 걷는 기분, 잠꼬대를 하거나 우울한 순간, 어디선가 즐겁게 노래 부르는 사람들 틈에 내 피아노가 있다. 그리고 세월호, 강정마을, 광주5.18같은 사회적 이슈에 반응하는 나의 영상에도 항상 피아노가 함께 한다. 피아노를 취미가 아닌 직업으로 삼기로 결심한다. 애니메이션, 댄스필름, 실험영화 등 다양한 장르의 내 연출작과 피아노를 결합한 작업을 시작한다. 그러던 어느 날, 한 기획자로부터 단독 공연을 제안 받는다.
I am a retired painter, the director who made this film, and these days I dream of becoming a pianist. My clumsy piano, which I started as an adult. At the academy I went to take lessons, the teacher often sighed and couldn't speak. But life revolves around the piano. It feels like walking down the city streets at night, drooling or in a melancholy moment, and somewhere in the midst of people singing happily, my piano is there. And the piano always accompanies my videos responding to social issues such as the Sewol ferry, Gangjeong Village, and Gwangju 5.18. He decides to make the piano a profession rather than a hobby. I start working on a piano that combines my directing works in various genres such as animation, dance film, and experimental film. Then one day, a planner offers a solo performance.
/
ARTIST'S NOTE
나는 성인이 되어 피아노를 배웠고 피아노를 너무 좋아한 나머지 서른이 넘어 피아니스트가 되었다. 영화감독과 미술가로서의 작품들을 피아노와 함께 발표하는 한 창작인의 모습, 서투른 실력이지만 용기를 내어 꿈을 이루는 한 사람의 모습, 사회적 폭력과 차별에 소심하게 반응하는 한 시민의 모습을 이 영화에 담았다. 관객은 다양했으면 좋겠다는 생각에 배리어프리 방식으로 제작했다.
I learned how to play the piano as an adult and I loved it so much that I became a pianist after I turned 30. The film features a creator presenting works as a film director and artist with a piano, a person who is clumsy but courageous to achieve his dream, and a citizen who is timid about social violence and discrimination. The movie was produced in a barrier-free way, hoping the audience would be diverse.
/
CREDITS
연출 : 오재형
편집 : 오재형
촬영 : 오재형
미술 : 오재형
음악 : 오재형
Director : Oh Jae Hyeong
Editor : Oh Jae Hyeong
Cinematographer : Oh Jae Hyeong
Painting : Oh Jae Hyeong
Music : : Oh Jae Hyeong
2021 「Busan International Film Festival」
2021 「Seoul Independent Film Festival」
2021 「Gwangju Independent Film Festival」